Move into the digital domain!
Instead of transmitting lossy distortable analogue signals from your digital equipment, why not make use of digital technology.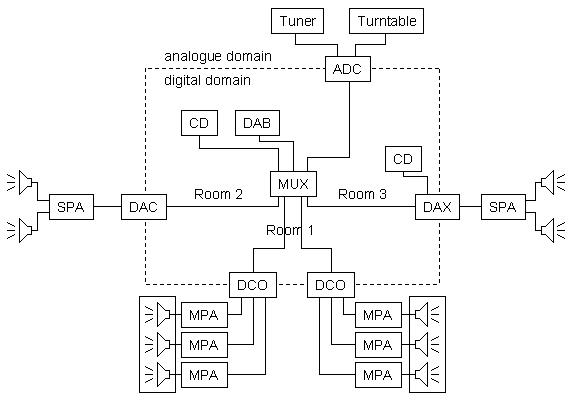 Have you ever wondered why you convert those crisp, clear digital signals from your DAB tuner and CD player into lossy analogue ones to send to your amps? Simple - until now, the technology to do this has been limited to audio systems manufacturer's proprietary technology.
The diagram on the right is an example of how the components might be connected together. Click on a component to find out more about it, or here to find out about our range of pre–programmed remote controls.
Square Wave Technology has developed two basic units.
DAX5 is the converter unit that can be configured as either an analogue to digital converter or a digital to analogue converter.
DAX6 is the switching unit.
Both units can be controlled by a front panel knob, Ir Remote, USB or CAN bus. The CAN bus is used for inter-unit communication. The USB interface can also be used for control software field upgrades