ADC - The DAX5 configured as an Analogue to Digital Converter
The DAX5 can be configured as either a Digital to Analogue converter or an Analogue to Digital converter.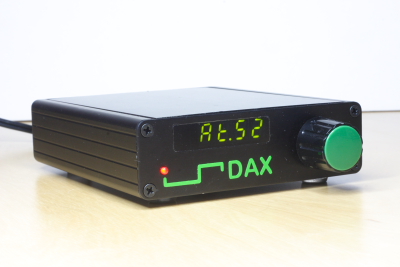 The DAX5 is designed around Analog Devices ADAV801 codec. This device consists of; an analogue to digital converter, a digital to analogue converter, a sample rate converter, digital interface transmitter, digital interface receiver, auxiliary digital inputs, auxiliary digital outputs, routing unit, clock driver. The device can therefore be configured in a number of ways. The auxiliary digital inputs and output allow connection to external ADC, DAC, or DSPs. The DAX5 has been designed to accept plug-in upgrades to improve performance or add extra functionality. DAX5-DAC DAX5-DSP DAX5-DCO DAX5-ADC
The DAX5 requires two internal links to be set to configure it as either a DAC or ADC.
Configured as an A to D the two phono connectors on the rear are used as inputs. The rear CAT5 RJ45 connector has the digital output in S/PDIF format and also the CAN bus control signals. An adaptor is available to convert the RJ45 to a standard phono.
If you are interested in this product please email us for further details.