PCI Express to 6 slot PCI expansion board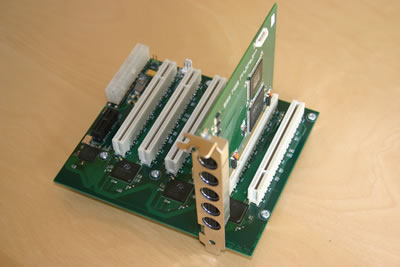 If you PC does not have enough PCI slots or you have PCI cards that you want to use with a laptop, this is the answer. The PCI express to 6 slot PCI expansion board is designed to take 66MHz 3.3Volt PCI cards or 33MHz 5Volt PCI cards in paired combinations defined at build time. It is powered from a standard ATX power supply and connected to the PC by a cheap SATA cable. The expansion unit powers up and down automatically with the PC. Included on the expansion board is a temperature controlled fan connection to keep the PCI cards cooled.
If you are interested in this product please email us for further details.